Infinity Traffic Boost
Infinity Traffic Boost
Program Name: Infinity Traffic Boost
Type of Program: Other
Miniumum Investment: 0 – 0.25 BTC
Minimum Withdrawal: 0.0140001 BTC
Accepted Currencies: Bitcoin, Payza
Operational Since: January, 2017
Description:
Infinity Traffic Boost (ITB) is at its core a Traffic Exchange program. What's a traffic exchange program I hear you ask? Simply put, its where like minded people can advertise their referral programs, in exchange for viewing someone else's.
ITB offers several referral link types.
Option 1 – Direct campaign – Your website referral link is viewed within a framed browser tab with a count-down timer of 15 seconds. This is an excellent place to advertise your highest returning monetised referral link for example. Due to the iframe, certain ref links for exchanges and cloud miners don't function correctly.
Option 2 – Text ads – Here you can link any old ref link you please and these are advertised to others where ITB has space for them.
Option 3 – Banner ads – These are small banners placed around the Campaign ad pages.
Each referral link requires advertising credit in order to be shown and with a free account, you can generate enough advertising credit to run 1-2 referrals, just by watching a few ads daily, however having multiple referrals in place will require more investment or time to watch a much larger volume of ads.
ITB has within it multiple levels of traffic package options (TPO's) available for purchase which mean if you are seriously in need of extra traffic sources this could be a viable option long-term. Starting from the free package, shooting all the way up to large-scale marketing campaigns at 0.25BTC there are 11 options available in total. While TPO11 would give you enough advertising for multiple referrals and campaigns to, I'm going to stick to the lower end of the spectrum.
Of course, the traffic and advertising isn't all. Watching all those ads for simple advertising credits wouldn't be enough to keep someone coming back, so for every 10 ads watched you receive a Surfer Reward share. Each TPO level has a certain number of shares that can be earned each day and each share is worth a certain amount of BTC, usually quite small (currently 74 satoshi per share).
Finally, and most commonly, the biggest rewards are in referring others and hoping to receive commission from your downlines purchases. The bonuses to you can receive range from 30% to 80% dependant upon your TPO level.
There are a few other areas within the site to help boost traffic flow for all your referrals, but to be fair, its difficult to achieve on a free account unfortunately. However, if you are willing to put in some time each day, you could successfully use this as a consistent way to advertise your referral links.
If you are interested in this please feel free to ask me via my Ramblings group in the Group section or send me an email to discuss.
Thanks
Join it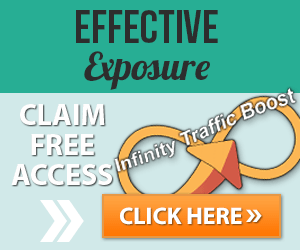 Submitted by VIP leeke.mac@gmail.com
Note: These programs are user submitted, so Cryptoways is in no way affiliated with them and cannot be held responsible for any loss or inconvenience.
Would you like to write about your referral program? Fill in our submission form below